Impresora Laser Multifunción A3 Konica Minolta Bizhub 287
389392 pesos con 68 centavos
en 12x 55219 pesos con 13 centavos$55.21913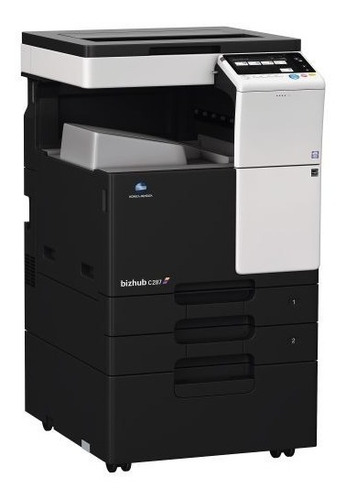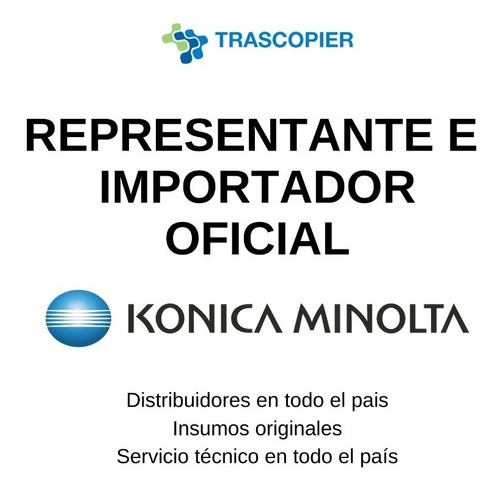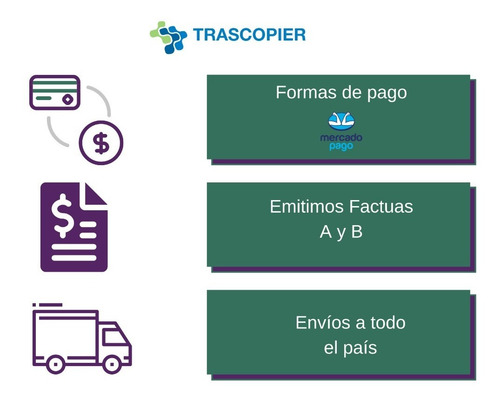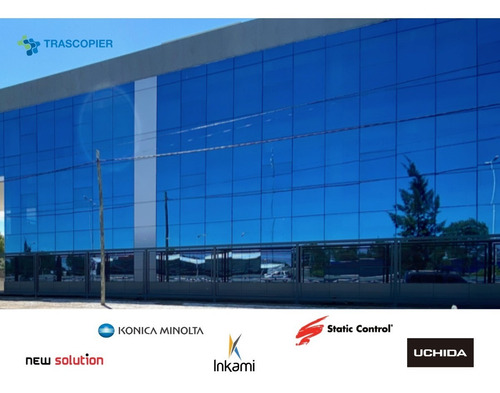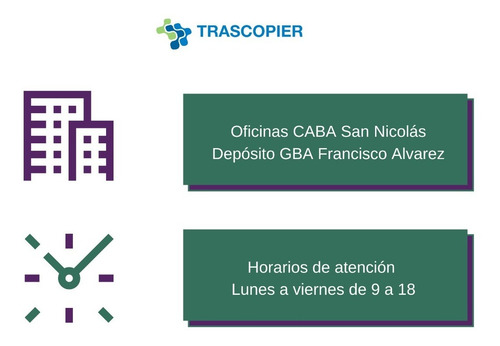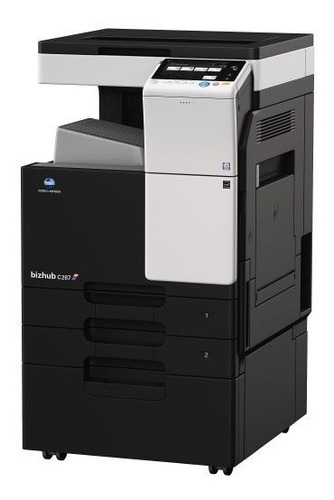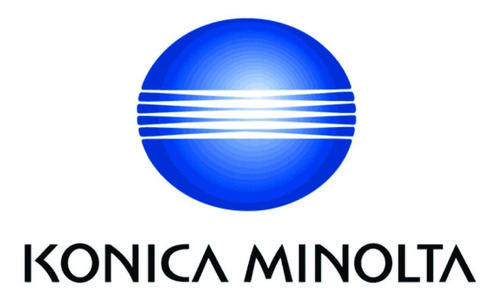 Características principales
| | |
| --- | --- |
| Marca | Konica Minolta |
| Línea | Bizhub |
| Modelo | Bizhub 287 |
Otras características
Tipo de impresión: Monocromática

Tamaño mínimo del documento - Tamaño máximo del documento: A5 - A3
Velocidad de impresión: 28 ppm

Con impresión dúplex: Sí
Descripción
Fotocopiadora Multinacional Konica Minolta Bizhub 287
con Tapa y 1 Toner

Este artículo NO se despacha por Mercadoenvíos por sus dimensiones y peso.

NO COBRAMOS EMBALAJE

Por este medio se factura a Consumidor Final
En caso de necesitar factuar "A",
contactarse a la brevedad con Mensajeria de Mercado Libre y solicitarlo indicando los datos correspondientes.
Realice todas las consultas necesarias antes de comprar, SU CONSULTA NO MOLESTA.

Fotocopiadora Multifuncion Konica Minolta Bizhub 287
con Tapa y 1 Toner

Fotocopiadora multifunción A3 blanco y negro económico. Lo último en tecnología móvil de impresión. Ideal para la pequeña empresa.
Habilita flujos de trabajo eficientes a través de su parque de MFP mediante aplicaciones basadas en servidor. Aumente el alcance de la funcionalidad del MFP desde básico hasta avanzado en función de sus necesidades.

-Especificaciones copiadora:

Proceso de copia Electrostatic laser copy; indirect
Sistema de tóner Simitri® HD polymerised toner
Velocidad Copia/Impresión A4 mono (ppm) Up to 28 cpm
Velocidad Copia/Impresión A3 mono (ppm) Up to 14 cpm
Velocidad doble cara A4 mono (ppm) Up to 28 cpm
Tiempo de 1ª copia/impresión mono (seg.) 5.3 sec.
Tiempo de calentamiento Approx. 20 sec.
Warm-up time may vary depending on the operating environment and usage
Resolución de copia (dpi) 600 x 600 dpi
Gradaciones 256 gradations
Multi-copy 1 - 9,999
Formato original A5 - A3
Ampliación 25-400% in 0.1% steps; auto-zooming
Funciones de copia Chapter; cover and page insertion; proof copy (print and screen); adjustment test print; digital art functions; job setting memory; poster mode; image repeat; overlay (optional);stamping

-Especificaciones impresora
Resolución de impresión (dpi) 1,800 (equivalent) x 600 dpi
Lenguaje de descripción de página PCL 6 (PCL 5 + XL 3.0); PostScript 3 (CPSI 3016); XPS
Sistemas operativos Windows VISTA (32/64)
Windows 7 (32/64)
Windows 8 (32/64)
Windows 8.1 (32/64)
Windows 10 (32/64)
Windows Server 2008/2008 R2 (32/64)
Windows Server 2012/2012 R2 (64)
Macintosh OS X 10.x
Unix; Linux; Citrix
Fuentes de impresión 80 PCL Latn; 137 PostScript 3 Emulation Latin
Funciones de impresión Direct print of PCL; PS; TIFF; XPS; PDF (v1.7); encrypted PDF files and OOXML (DOCX; XLSX; PPTX); mixmedia and mixplex; "Easy Set? job programming; overlay; watermark;copy protection; carbon copy print

-Especificaciones escáner:
Velocidad escáner color (opm) Up to 45 ipm
Velocidad escáner mono (opm) Up to 45 ipm
Resolución del escáner (dpi) Max.: 600 x 600 dpi
Modos de escaneo Scan-to-eMail (Scan-to-Me)
Scan-to-SMB (Scan-to-Home)
Scan-to-FTP
Scan-to-Box
Scan-to-USB
Scan-to-WebDAV
Scan-to-DPWS
Network TWAIN scan
Formatos de fichero TIFF; PDF; Compact PDF; JPEG; XPS; Compact XPS; DOCX; XLSX; searchable PDF; PDF/A; linearized PDF
Destinos de escaneo 2,100 (single + group); LDAP support
Funciones de escaneo Annotation (text/time/date) for PDF; up to 400 job programs;Real-time scan preview

-Especificaciones fax:
Estándar de fax G3
Transmisión de fax Analogue
i-Fax
Colour i-Fax (RFC3949-C)
IP-Fax
Resolución del fax (dpi) Max.: 600 x 600 dpi (ultra-fine)
Compresión de fax MH; MR; MMR; JBIG
Módem de fax Up to 33.6 Kbps
Destinos de fax 2,100 (single + group)
Funciones de fax Polling; time shift; PC-Fax; receipt to confidential box;Receipt to e-mail/FTP/SMB; up to 400 job programs
Especificaciones buzón de usuario
Documentos por buzón Up to 3.000 documents or 10.000 pages
Tipo de buzones de usuario Public
Personal (with password or authentication)
Group (with authentication)
Tipo de buzones de sistema Secure print
Encrypted PDF print
Fax receipt
Fax polling
Funcionalidad de buzones Reprint; combination
Download
Sending (e-mail/FTP/SMB and fax)
Copy box to box

-Especificaciones sistema

Memoria de sistema estándar (MB) 2,048 MB (standard)
System hard disc optional (GB) 250 GB (standard)
Interface estándar 10-Base-T/100-Base-T/1,000-Base-T Ethernet; USB 2.0; Wi-Fi 802.11b/g/n (optional)
Protocolos de red TCP/IP (FTP; SMB; SMTP; WebDAV) (IPv4/IPv6)
Tipos de marco Ethernet 802.2; Ethernet 802.3; Ethernet II; Ethernet SNAP
Alimentador automático de documentos (estándar/opcional) Up to 100 originals; A6-A3; 35-163 gsm
RADF optional available
Tamaño de papel A5-A3; A6S; Thick Paper X/Y size input range: Width:90-297 mm; Length: 139.7-431.8mm
Gramaje del papel (gr/m²) 60-220 gsm
Capacidad de entrada de papel (hojas) Standard: 1,100 sheets
Max.: 3,600 sheets
Bandejas de papel de serie Bandeja 1: 500 sheets; A5-A4; 60-220 gsm
Bandeja 2: 500 sheets; A5-A3; 60-220 gsm
Alimentador manual: 100 sheets; A6-A3; custom sizes; 60-220 gsm
Bandejas de papel opcionales Bandeja 3: 500 sheets; A5-A3; 60-220 gsm
Bandeja 3 + 4: 2 x 500 sheets; A5-A3; 60-220 gsm
Bandeja de alta capacidad: 2,500 sheets; A4; 60-220 gsm
Dúplex automático A5-A3; 60-209 gsm
Modos de acabado (opcional) Offset; group; sort; staple; punch; centre-fold; letter fold; booklet
Capacidad de salida de papel (con finalizador) Max.: 3,300 sheets
Capacidad de salida de papel (sin finalizador) Max.: 250 sheets
Grapado Max.: 50 sheets or 48 sheets + 2 cover sheets (up to 209 gsm)
Capacidad de salida de grapado Max.: 1,000 sheets
Plegado en carta Up to 3 sheets
Capacidad de plegado en carta Max.: 30 sheets (tray); unlimited
Cuadernillo Max.: 20 sheets or 19 sheets + 1 cover sheet (up to 209 gsm)
Capacidad de salida de cuadernillo Max.: 100 sheets (tray); unlimited
Volumen mensual de copia/impresión recomendado 13,000
Volumen mensual de copia/impresión máximo 28,000
If the maximum volume is reached within a period of one year, then a maintenance cycle must be performed
Duración de la unidad de imagen negra 80,000 pages/600,000 pages (Drum/Developer)
Consumo eléctrico 220-240 V / 50/60 Hz; Less than 1.5 kW (system)
Dimensiones ( An. x Pr .x Al., mm) 585 x 660 x 735 mm (Standard configuration of main body)
Peso (kg) Approx. 56.5 kg
Características del sistema
Seguridad ISO15408/IEEE 2600.2 compliant (in evaluation);
IP filtering and port blocking;
SSL2; SSL3 and TSL1.0 network communication;
IPsec support; IEEE 802.1x support; user authentication;
Authentication log; secure print;
Hard disk overwrite (8 standard types);
Hard disk data encryption (AES 256);
Memory data auto deletion; Confidential fax receipt;
Print user data encryption
Contabilidad Up to 1,000 user accounts; Active Directory support
(user name + password + e-mail + smb folder)
User function access definition
Biometric authentication (finger vein scanner) optional
ID card authentication (ID card reader) optional
Software PageScope Net Care Device Manager
PageScope Data Administrator
PageScope Box Operator
PageScope Direct Print
Print Status Notifier
Driver Packaging Utility
Log Management Utility


Trascopier SA Único Representante Oficial Konica Minolta En La República Argentina

Hacemos Factura A y B
Avisar al vendedor al momento de realizar la compra.
El envio corre por parte del comprador
.